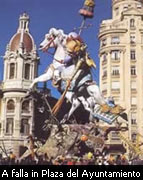 The 2007 Annual meeting was held in Valencia, Spain, between the 12th and 17th of June at the Hotel Las Arenas Balineario Resort.
Founded by the Romans and built originally within a wall, Valencia has accumulated enormous wealth from all the countries that have resided here over the centuries. The historic centre with its religious temples and monuments, the cultural developments like the City of Arts and Science (CAC) which has been defined by the New York Times as "A stunning complex, with a museum, theater, gardens and an aquarium, that has put Valencia on the pilgrimage route for modern architecture's faithful", and many other attractions make you feel the plurality, evolution and dynamism of a city where prosperous historical tradition and recent and innovative architecture stand side by side.

Located on the Mediterranean Sea, with a beautiful span of beaches right in the very heart of it which include fantastic possibilities for sport and leisure and not to mention a boiling nightlife, Valencia is also proud to host the 2007 America´s Cup. Its excellent sailing conditions, the creation of a base exclusively for this event, the renewal of the port and surrounding area, its great marine tradition and the enormous organizational capacity of such a dynamic city have all contributed to the choice of Valencia as the perfect place to hold the first America´s Cup ever to be held in Europe.

Valencia, therefore was an ideal choice, it is urgently recommended that all those participating in the event, register early as the entire city will be bustling with international visitors. The INSCA Annual meeting is scheduled between two of the segments of the America´s Cup.